Research Projects
Immediate past and future research projects include the multipaper expert consensus statement on pediatric PH, normal reference values for non-invasive diagnostics, a survey and subsequent patient registry on children with both chronic (parenchymal) lung disease and pulmonary hypertension (e.g. bronchopulmonary dysplasia). Additional research projects are already in preparation or can be proposed by PVD network members.
Meetings & Workshops
On April 7, 2016, the PVD Network conducted the worldwide first hands-on workshop on pediatric PH. The workshop included an introductory talk on echocardiography by Prof. Martin Köstenberger, hands-on teaching with live cases in the echo and cath labs, an ECMO circuit and specific ICU issues, including iNO and HFOV. Next day our PH Symposium took place in Hannover. Future PH workshops and scientific PH meetings are in preparation.
PVD Network Videos
For example: Video summary of the PAH-Genetics abstract by Dr. Juha Koskenvuo – presented at the Pulmonary Hypertension Symposium – Update 2016 in Hannover, Germany.
Research on PH and Heart Failure
Rapid Increase in the Number of Publications on PAH Therapies (1990-2010)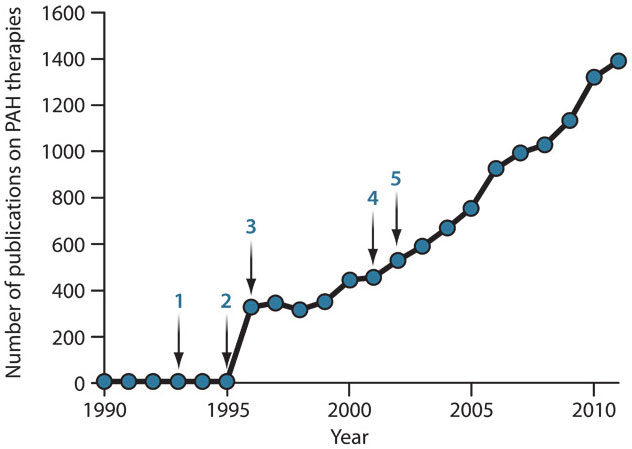 © Gopinath Sutendra and Evangelos D. Michelakis Sci Transl Med 2013;5:208sr5
In the last 25 years, rapid, accelerated knowledge gain due to an increasing number of publications on pathobiology and clinical trials have led to more tailored ("personalized"), goal oriented treatment modalities for PAH. From 2011-2015, new insights into metabolic dysregulation and previously unknown gene mutations, and high impact, high volume, longterm randomized controlled trials (RCT) using combined outcomes such as "first morbidity and mortality", have been published, leading to the approval of more PAH drugs acting on previously known pathways. However, prospective studies in children and adolescents with PAH are largely lacking (only one RCT published by January, 2016).
The number of publications addressing experimental therapies in PAH began to increase in 1995 after landmark studies in human PAH tissues and randomized controlled clinical PAH trials had been published.
First observation of increased endothelin-1 expression in lungs of PAH patients
First observation of reduced endothelial NOS expression in lungs of PAH patients
First successful randomized clinical trial in PAH (intravenous epoprostenol)
First demonstration of BMPRII mutations in familial PAH
First successful randomized clinical trial in PAH with an oral agent (bosentan)
Molecular Targets of approved Pulmonary Hypertension Therapies (2016)
By 01/2016, more than 12 drugs have been approved for the treatment of adult PAH, all of which are primarily vasodilators. More than 20 randomized clinical trials (RCT) have shown a moderate effect of these agents – based on short-term improvement in functional capacity or longer time to clinical worsening. Hemodynamically, the drugs tend to increase cardiac output but have only little effect on elevated PA pressure and RV dysfunction. Although recent PAH studies on early combination therapy and new targets in classical signaling pathways (guanylate cyclase, IP receptor) have raised great hope for better composite outcomes, until today, no RCT lasting longer than 16 weeks has shown a decrease in mortality as single primary outcome.
Legend: The molecular targets, signaling pathways, and modes of action of approved pulmonary hypertension (PH) therapies. cAMP, cyclic adenosine monophosphate; cGMP, cyclic guanosine phosphodiesterase type 5; PKA, phosphate kinase A; PKG, cGMP-dependent protein kinase; sGC, soluble guanylate cyclase.
PVD Network – Featured Articles
You can open and download the following four featured articles in pdf format, recently published by members of the PVD Network.
The European Paediatric Pulmonary Vascular Disease Network, endorsed by ISHLT and DGPK
Heart, 2016
The European Paediatric Pulmonary Vascular Disease Network, endorsed by ISHLT and DGPK
Heart, 2016
The European Paediatric Pulmonary Vascular Disease Network, endorsed by ISHLT and DGPK
Heart, 2016
The European Paediatric Pulmonary Vascular Disease Network
Circulation Cardiovascular Imaging, 2017
Recent Publications of the PVD Network